Summary: A well designed home or room addition is essential to building a cost effective and more livable home!
Architectural home design can make a better use of space. Bigger is not always the answer, but "better" is.
Here to answer your questions on home design and related issues is a Harvard trained architect, David Moore, AIA. David has spent the past 25 years designing houses around the country. Since 1986, he has operated his own Connecticut architectural firm: David Moore, Architect.
In 2003, David opened an internet based home plan company at www.originalhome.com which incorporates an innovative system for designing your own house online.
David has experienced home construction from many points of view: as an architect, a carpenter, a general contractor, a speculative home builder, and a homeowner. He is a member of the American Institute of Architects (AIA), the American Institute of Building Design (AIBD), and the International Codes Council (ICC).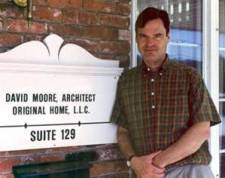 In addition to designing hundreds of houses, David has designed industrial projects, office buildings and condominium complexes. His work has appeared in local and national publications.
So, if you have questions on home design, green home designs, green home plans, Leeds building, skylight windows, roof windows, basement windows, patio doors, stairs, remodeling, additions, new home construction, building materials, color, lighting, room design and layout, etc., you can ask David a question.
Please note that due to time constraints, David may not be able to answer every question.
Previous questions and answers can be found on my blog at Ask the Architect Archives.
Simply email me, carl at byoh dot com, and I'll pass your question along to David.
Carl Heldmann