Summary: The cost of a home addition compares to the cost of building a small house. The cost of a room addition can be less if you remodel an existing area such as a basement, garage, porch, or attic.
Carl, we are thinking of adding a home addition to our present house. Where do we start? Should we call a remodeling contractor to get ideas and plans? We need more living space! Help! Sue
Hi Sue,
You need to have a good idea how much it will cost to build an addition before you get too far along in the process.
The cost per square foot to build such a relatively small living space is higher than most people expect it to be. I explain why below, but first let's see just how much higher we are talking about.
Here's a nice home addition plan from CADSmith Studio
This 22' x 22' addition is suitable for a traditional 2 story or cape style home.
1st floor living space: 484 sq. ft. (22 x 22)
2nd floor living space: 242 sq. ft. (22 x 11)
Total = 726 sq. ft.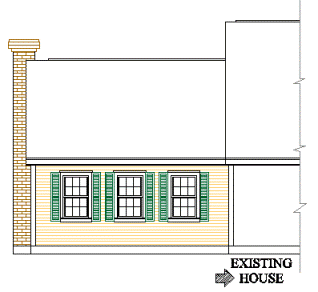 Addition House Plan courtesy of CADSmith Studio
I ran a cost analysis using the cost to build software that is on Getting Started to determine the cost of this home addition plan.
Using Grand Rapids, MI as a random city, I came up with a rough estimated cost to build the addition of $72,214, or $100 per square foot.
This approximate cost to build is current for 2019 and includes a General Contractor's markup of $8,301. By using that same cost estimating software, you can run your own approximate cost estimate for your house addition using your city and state and your own construction parameters. It's easy to use.
Always keep in mind that the cost to build house additions or a new home can vary considerably depending on design, quality of materials selected, and on actual bids for labor and materials. Geographical location affects cost too.
NOTE: Many locales have added impact fees on top of construction permits. The costs of these fees can be expensive. Investigate them early on in your home building planning. They are NOT included in these cost estimates.
As you can see, building a house addition is like building a small house, and just as in building a new home, you can act as your own General Contractor and estimate the costs based on you hiring your own building contractors or subcontractors (tradespeople) and buying the materials needed.
The basic difference in estimating a home addition vs. a new home will be the increase of some square footage building costs.
This is due to the smaller size of the job. Subcontractors may want a few more dollars for their labor because they could be earning more on a larger job for almost the same amount of labor time.
On the other hand, the general contractor (that you won't be hiring) would probably have charged a higher markup for the same reason, so you will save there too.
As I mention in my book, the National Association of Home Builder recommends that professional builders aim for a 50 percent gross profit margin on the cost of home additions and remodeling! The savings you realize by being your own general contractor will more than offset the increase in labor costs from subs.
As for calling a remodeling contractor for plans and/or ideas, you certainly should. Get bids from at least three remodeling contractors. Be sure to clearly state your budget to them. Be sure to get at least three references and CHECK THOSE REFERENCES!
I would also consult with a local design firm. You can find them with a search for "(Your City) Home Designing and Planning." Explain your budget to the home designer. As professional designers they should know how to design a home addition plan to fit your budget. Again, get at least three references and CHECK THEM!
You should make a list of all the materials the project will need and use a cost estimate spreadsheet as a starting point. Obtain competitive bids as though you were building a house and proceed from there.
Don't add too much value to your home because all houses need to be sold sooner or later, and you don't want to have the most expensive house in the neighborhood when you put it on the market. It's a real estate fact of life: The most expensive house in the neighborhood is very difficult to sell.
Before even deciding to go ahead with the addition, get an appraisal or market analysis from a Realtor as to the completed value, or the value of the addition added. If you are getting a loan, your mortgage lender will have an appraisal done before deciding to lend you money.
Keep in mind that making existing nonliving spaces habitable may be the least expensive way to add more living space.
After all, these areas may already have a roof, foundation, floors, and some or all of the exterior walls.
Since you are considering building an addition, check to see that you have room on your lot to do so.
All local zoning laws and most property deed restrictions have minimum foundation setback requirements that cannot be violated.
These setback requirements usually require a minimum distance that the foundation (or roof overhang) can be from side property lines, front and rear property lines, easements, streets, and neighboring houses.
Check with your local building inspection department and, if you have one, your homeowners association.
Also check your deed restrictions. These deed restrictions are available as public records at your county register of deeds office.
A mortgage report survey shows exactly where the foundation footprint of your house is in relation to the required setbacks.
If you don't have an existing mortgage report survey, it is well worth the money to get one. Call a few local land surveyors to determine the current cost of this type of land survey.
Once you get plans for your home addition, it should be first drawn onto the survey to be sure it fits. If it fits on paper, it will fit in reality. If it violates setbacks, adjust your home addition plan accordingly.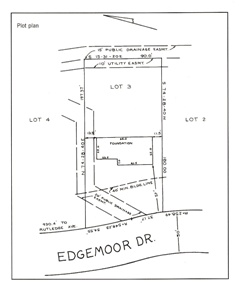 Typical Mortgage Report Survey
As for "where do you start", you always start with a budget.
Budget = cash + borrowing power.
For borrowing power, talk to a mortgage lender of your choice.
Good luck, Carl Heldmann