Summary: Shallow house foundations can be built without excavating below the frost line, reducing the amount of excavation and concrete or masonry required, which reduces the costs of the foundation.
Carl, can you build a new home foundation without digging down deeper than the frost line?
I heard there was a way to do this, but I'm sceptical.
Thank you, K.W.
Hi K. W., Yes you can build a new home foundation above the frost line and yes, there is a special way to do these shallow foundations.
By the way, these shallow foundations are called Frost-Protected Shallow Foundations, or FPSF.
They are protected from cold weather damage by thermal insulation placed around the outside of the foundation to direct the earth's natural heat toward the foundation.
This means the footing need only be 12 to 16 inches below grade, greatly reducing excavation costs, especially in northern climates.
This type of construction has been around for decades and was used by Frank Lloyd Wright in the Chicago area in the 1930's
Cost Savings of $635-4750 have been reported, but that is highly dependent on building size and climate.
Pictured below is a Frost-Protected Shallow Foundation being used for an on grade concrete slab foundation, but it can also be used for stem wall, floating slab, and unvented crawlspace foundations.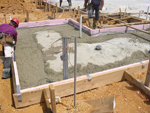 Photo courtesy of Home Innovation Research Labs
Home Innovation Research Labs has published a "Design Guide for Frost Protected Shallow Foundations" to help determine proper foundation design and insulation details.
This design guide contains detailed drawings of the prescribed methods of construction. In addition, Home Innovation Research Labs has published brochures describing FPSF.
Read more at Home Innovation Research Lab's Frost-Protected Shallow Foundations (FPSF).
Carl Heldmann