Summary: Precast concrete foundation and wall panels are precast and cured in a controlled factory environment so weather delays can be avoided. A panelized foundation can be installed in any climate in much less time than a formed or poured concrete wall.
Carl,
Have you heard about Superior Pre-Cast Walls/Weaver Precast (manufactured in Ephrata PA for my region) and if so, what do you think of using them instead of using poured foundation walls? I visited their plant yesterday. I am in the process of studying up on their product and their process. Helen

Hi Helen,

Precast concrete walls require some expertise in planning, design and installation, so be sure to hire a professional foundation contractor that has received training and has experience with precast concrete walls.

The original Superior Walls is designed to be warm right from the factory, and is provided with 1 inch of continuous DOW ® insulation for year-round comfort and energy efficiency.
The special high-strength, low-water concrete mix ensures that your basement remains dry, and the wall is reinforced with steel re bar and polypropylene fibers for strength.
Photos courtesy of Superior Walls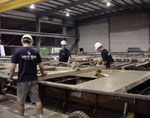 Convenient features include built-in accesses for wiring and small plumbing, insulated galvanized stud facing, and custom openings for windows and doors.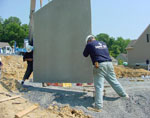 Installation: The Superior Walls System installs much like and shares many precepts of pressure-treated wood foundations - but we believe it provides much greater structural longevity.
The panels are set on a bed of compacted stone which serves as a bearing layer as well as a drainage control system under the foundation.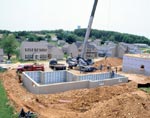 Once in place, the panels are bolted together at the top and bottom and sealed with a gun-applied adhesive-sealant.
The General Contractor (owner/builder) then has his concrete contractor pour the floor slab inside the wall system.
Good luck, Carl Heldmann