Summary: Save money building a new house, buying a new home, or building a home addition with professional home builder Carl Heldmann's home construction book as your guide.
From estimating the cost to build a house, buying land, home plans, budgeting, construction loans, hiring contractors, to overseeing construction, this house construction book offers home building tips, home building secrets, and home building advice.
The knowledge you will gain from this book and from byoh.com will be valuable even if you decide to have a home builder (general contractor) build your home for you.
Here's what Book reviewers have to say about Be Your Own House Contractor:
"General Contractor Carl Heldmann has written the bible for building your own home" - LA Times.
"We recommend it to anyone building a house" - Hometime®
"This outstanding book rates a solid ten" - Robert Bruss
"This book is a must" - American Homeowners Foundation
"Simple language, no technical jargon" - New York Times
"Excellent book. Recommended" - Library Journal
"If you are bound and determined to plunge ahead pick up a copy of this little book before you start."- Gordy Holt, Seattle Post-Intelligencer
"If you're intrigued by the idea of being your own contractor for your dream house, here's where to begin."- Marcia Schnedler, Arkansas Democrat-Gazette
"…Heldmann offers something that you can hold dear for a lifetime: the skinny on home building"— Mike McCarthy, Timber Home Building
Books make great gifts! They are thoughtful, inexpensive, and enduring.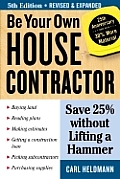 Purchase the paperback edition of Be Your Own House Contractor online, by clicking here or on the book.
And, Be Your Own House Contractor is also available as an eBook at a great price.
The Amazon Kindle eBook edition is fantastic and you can start reading it in under a minute.
Purchase the Amazon Kindle eBook edition by clicking here or on the book.
Other Books by Carl:
Note: All Carl's books are available from your favorite bookseller, or Click on any book to buy online.