Summary: Build a new home or remodel an older home making it energy efficient to not only save money on energy but to increase its resale value.
When I started building homes I decided I wanted to not only build homes well, I wanted to build them better. When I used to hear someone say, "They don't build them like thy used to", I would laugh and say; "You are absolutely right! Thank goodness!"
I have always built energy efficient homes because that's what makes for a better house. It always made sense to me to use quality windows, adequate insulation, and energy efficient heating and air-conditioning systems, as well as appliances. I build every home as if I was going to live in it and, as a result I never have had trouble selling my houses.
I choose windows that are made with sashes that are either made of wood, as wood insulates, or are made of another form of insulated sash. I select insulated windows that have the biggest air space between the panes of glass, as air is the BEST insulator known to man! Glass is the worst insulator known to man!
I insulate way above building code requirements, in ceilings, walls, and floors, because that's what I want. I switched to heat pumps when they first appeared, and high energy efficient gas furnaces when gas is requested by a buyer. I have heat ducts well sealed, air and vapor barriers installed, and so on, and have done so for a long, long time, before builders were required to do so.
There are more examples, but I think you get the idea.
Building green is really not a new concept for home builders who care. I was building energy efficient homes, or building green, when green was just a color. It all boils down to using common sense and doing the right thing.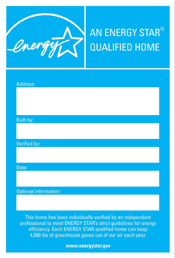 This label identifies a home as having earned the ENERGY STAR
Here's more from Energy Star. Carl Heldmann