Summary: To build a new home you need more than just the floor plan and the exterior drawing of the home. You or your builder and the mortgage lender will need detailed information.
If you find a new home plan you like then you will need to buy the house plan (blueprints) to get the additional detailed information. A set of blueprints typically come with several pages of details, information not shown on a web site or in a plan book.
Be sure your home plans include at least the following pages.
A plot plan. If your new home plans are drawn locally, the designer can prepare this plan for you if you have an existing land survey. Otherwise you will have to have a surveyor do it. It is merely a plat (map) of your lot with the position of the house drawn or blocked in (see permits, fees, & surveys category).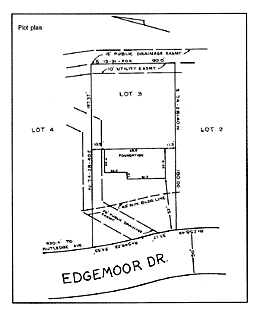 Its purpose is to ensure that a given house plan will fit on a given lot. If it doesn't fit on paper, it surely won't fit in reality. (Note: A plot plan is required during the building permit application)

First, the lot is drawn, then all the setbacks required by zoning and/or restrictions are sketched in, then the location of the house is indicated. The exact location may be slightly different when the house is physically staked out, but will be close to the indicated position on the plat — especially if it is a tight fit. If you have a lot consisting of several acres, the actual position of the house from that indicated on the plat could change by many feet.

The plot plan won't be drawn first if you have a set of plans but no lot. It's better to find a lot first, then make the plans to fit, though this is not an absolute rule. Some people love a certain set of plans or they want a particular house they have seen in a magazine. They would rather search for a lot to fit the plans. It can be done, although not always easily or inexpensively.

New Home Specifications - Spec sheets. In these lists of materials for your house, spell out as much detail as possible. Here's a FREE 4 page PDF "Description of Materials".

Foundation plan. This shows the overall dimensions of the house and the locations of all load-bearing requirements, such as piers, steel reinforcing rods, vents, basement slabs, and, if a basement house, all walls, windows, doors, and plumbing of that basement.

Floor plans. You must have a plan for each floor that shows outside dimensions plus locations of windows and doors, plumbing fixtures, and large appliances. You may add the electrical drawings as well. These drawings show the locations of receptacles and switches. It is not necessary to have these shown on the floor plans. You can go through the house with your electrician after it is framed and locate receptacles, light fixtures, switches, cable outlets, and phone lines. However, when getting quotes or bids from subs, it is best to have the electrical, cable, and phone requirements included either in the floor plans or on a separate sheet.

The same is true for heating and cooling (mechanical) requirements. It is best to have these drawn out in advance, for bid purposes and to locate the furnace. If you plan to heat with wood, coal, gas, or oil, then planning the flue location is necessary, especially in a house without a basement and/or in a two-story house, unless your appliance is a direct-vent model.

Detail sheet. This shows cabinet details, cross sections of the inside of the house if there is a section that may not be perfectly clear from the floor plan, and wall sections to show all the materials that make up a wall, such as brick, sheathing, studs, insulation, and inside wallboard or paneling. A detailed section of a foundation wall is also sketched in order to show proper construction technique, drainage, and waterproofing.

Outside home elevations. These sheets (usually two) show an outside view of how the house will look when finished. Usually all four sides are shown. next page | 1 2 3 4 5