STEP 2:
Clearing and Excavation (1-3 days)
Summary: An excavation contractor is used to clear the new home building site for any type of house foundation.
Clearing the home building site includes clearing trees, brush, rocks, roots, and debris from where the house will sit, and usually 10 feet or more around the foundation, thus allowing space for tractors, fork lifts, and trucks working at the site.
Obviously, the more area to be cleared, the more it will cost.
An excavation subcontractor prepares the land for a concrete slab foundation, crawl space, or a basement foundation.
Removing big trees is time-consuming and expensive. Do not use your excavator for this job. Use a tree removal service.
Best to have the good, manageable-sized logs cut down to 10 to 12 feet in length and piled at the side of the lot for you to cut up at your leisure.
If you are not having a basement the building site need only to be cleared and leveled. Get a contract price for this work.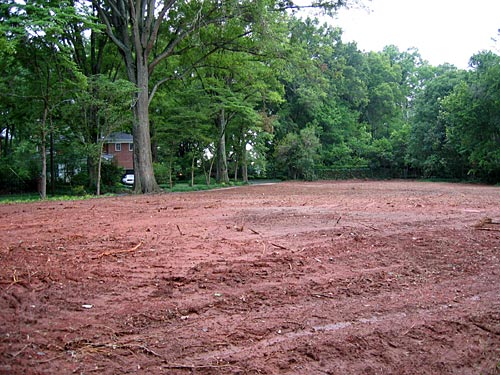 If you are going to have a basement, full basement, partial basement, or a walkout basement, read my How to Dig a Basement.
Back to the "steps" overview page | next page | 1 2 3 4 5 6 7 8 9