STEP 7: Concrete Slabs - Basements and garages (1-2 days) AND, STEP 8: House Framing and carpentry (1-3 weeks)
Concrete flatwork, also called a concrete slab, for a basement and/or a garage floor, can now be constructed.
A Lot of preparation has to be done prior to the foundation contractor or concrete contractor pouring the basement slab.
Plumbing lines are roughed in by your plumbing contractor as well as any drains for sump pumps.
Many things will be taking place at this time.
You, as the General Contractor, will have to schedule the various subcontractors, construction equipment, and building supplies. Your subcontractors and you can coordinate all this if you hired good subcontractors.
They will (should) tell you in advance of any special equipment you may need to arrange.
For example, in the photo below you can see what is called a concrete pumping machine.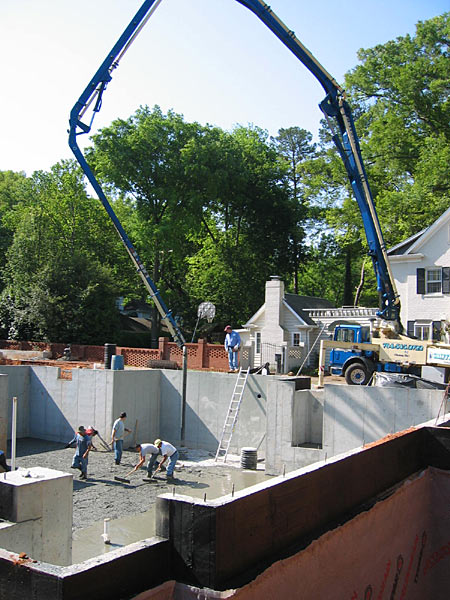 Basement concrete slab construction is an important step, so I recommend you read my dedicated page for Concrete Slabs.
STEP 8: House Framing and carpentry (1-3 weeks)
If you have a good carpenter, and I am sure you will take the time to find one, building your own home can be a joy.
Other than the foundation, nothing is as important as the framing of your new home.
A skilled professional carpenter and framing crew is absolutely essential.
If your new house is not framed as per your new home plans, nothing that follows will be right.
Your carpenter is your main subcontractor and often a great source for advice and answers to any questions you might have about almost any facet of construction.
That is why I have a separate, dedicated page for you to read on Carpentry Contractors and House Framing. Be sure to read it.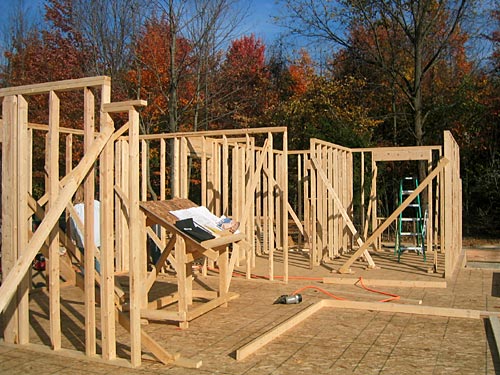 Back to the "steps" overview page | next page | 1 2 3 4 5 6 7 8 9