Summary: Stucco siding is inexpensive, durable, and beautiful. Stucco houses with real Portland cement stucco finishes provide years of maintenance free living.
Carl, I can not find any information about building Mediterranean houses with stucco finishes.
Thanks, Alex
Hi Alex,
I love stucco! Stucco is my favorite house siding and homes designed with stucco walls are one of my favorite home designs.
Real stucco, also called traditional stucco, is Portland cement plaster.
Traditional stucco is not to be confused with the exterior insulation finish systems (EIFS) or synthetic stucco systems.
Synthetic stucco is generally thinner Portland cement stucco, offering less impact resistance and due to its composition does not breath.
If a home's siding doesn't breath it can not allow the inside of a wall to dry when moisture gets trapped inside. Trapped moisture will rot insulation, sheathing, and wood framing. It also corrodes metal framing.
Traditional real stucco breathes however, so moisture vapor or water that gets behind it does not become trapped.
Stucco also provides a tough exterior that resists damage.
A variety of colors and textures are available, as well as a variety of finishes.
Stucco works in all climates and can be used for interior walls too.
And Alex, here's a Mediterranean Style Plan from coolhouseplans.com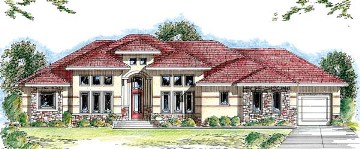 Mediterranean Style COOL House Plan ID: chp-34050
On my
New Home Plans
page you'll find plenty of stucco homes from several house plan companies
Carl Heldmann