How Much Does it Cost to Build a Cape Cod House in New Hampshire
Here is a classic Cape Cod style of home. Cape Cod homes are generally 1 story or 1-1/2 story houses with steep pitched gabled roofs that often have livable attic space.
The rear portion of these steep roofs can be built with a shed roof (with a minimum pitch) that allows more head room inside, thus allowing more living space in the upper story or attic.
Capes usually have shutters and are sided with clapboard or shingles. These classic designs are very popular in the North Eastern states and because of the steep pitched roof, are better suited for snow than many other designs.
Using the cost estimating software found on my cost estimating page, and using Concord NH as the locale, I arrived at an estimated (rough) total cost to build this attractive home of $277,189, or $101.46 per sq ft of heated living area. This includes permits and utilities, insurance, and a General Contractor markup of $34,782. Land, land development, local impact fees, and other local fees (if any) are NOT included.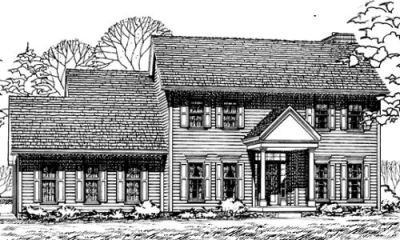 Houseplans.com PLAN 20-996
Details:
bedrooms: 4, baths: 2.5
garage stalls: 2
levels: 2
square feet: Total: 2732
main floor: 1428, upper floor: 1304
unfinished basement: 1428 sq ft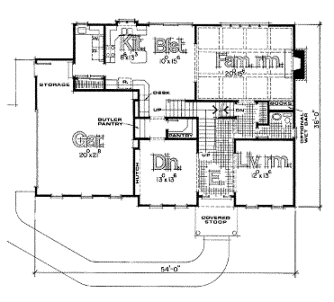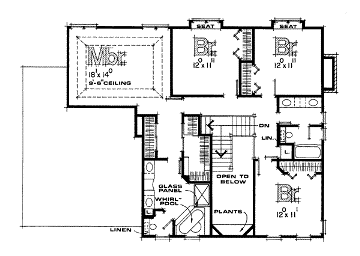 The criteria I gave to the estimating software was; #5 for the foundation, # 6 Quality Class for the other questions, no attic, no living space above the second floor, no balconies, 1428 sq ft in an unfinished basement, 420 sq ft garage, no porches, not in a housing tract and not outside the metro area, forced air central heat and air conditioning, One Zero-clearance insulated prefab metal fireplace with a brick facing.
You should keep in mind that the cost to build for this example, or any house plan, can vary considerably depending quality of materials selected, and on actual bids for labor and material. The estimate for this house is an approximate one.
Important Notice: Use the free estimating software to update this 2016 estimate to see if the cost has changed. You can also experiment with different building quality inputs that affect the cost to build.
Until you actually start getting bids and entering them into your own spreadsheet (see my spreadsheet page for FREE spreadsheets), it will remain approximate. Carl Heldmann