Summary: How much does it cost to build a house in Washington State with a finished basement. The cost per square foot is much less when you include a finished basement.
Note: In order for a basement to be considered habitable space, it must have two (2) means of ingress & egress. This can be accomplished with doors, as in an walkout basement, which requires a sloping lot, or with large windows, or with an emergency basement door.
Rustic meets modern in the Adkins:
The covered porch and shutters give the compact Adkins the look of a traditional farm-style home, but the interior is entirely up to date. Kitchen, dining room and living room flow together, creating a feeling of openness, with nine-foot ceilings adding to the sense of volume.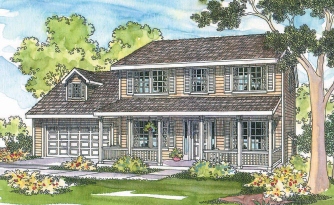 Adkins from Associated Designs, Inc. Plan # 30-197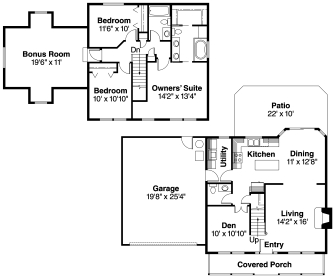 Country Home Plans - Shutters, multi paned windows, and a full front porch create a warm welcome to this country home plan. The living room featuring a fireplace, flows into the dining room then to an open kitchen. A front-facing den, open to the entry, could be used as home office.
Total Living Area: 1604 square feet plus the finished basement area of 838 equals 2,442 sq ft
1st Floor: 838 square feet
2nd Floor: 766 square feet
Finished Basement: 838 square feet
Bonus Room (Unfinished attic area with more than 78" headroom): 353 sq. ft.
Garage: 520 square feet
Covered Porch: 144 square feet
Using the 4 corner basement shape for the foundation on the cost to build calculator and for the Seattle, WA area, and Quality Class 5 (Average Standard Quality), I came up with a total cost of $344,874, including a General Contractor markup of $39,372.
If the basement is on flat land, you will need an "Emergency Basement Door".
Note:The cost of this Emergency Basement Door is not included in this "Cost to Build" example.
Here is an example of a Emergency Basement Door from Bilco: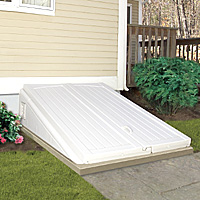 Basement Door - Ultra Series from Bilco: Satisfies IRC 2006 Building code requirements for emergency egress in finished basement areas.
You should keep in mind that the cost to build for this example, or any house plan, can vary considerably depending quality of materials selected, and on actual bids for labor and material.
Important Notice: Cost estimates change with time. YOU can update this 2018 estimate to see if it has, as well as experimenting with different building quality inputs that affect the cost to build.
Keep in mind that these estimates are approximate and are just a guide. Until you actually start getting your own bids and estimates and entering them into your own spreadsheet (see my spreadsheet page for FREE spreadsheets), they will remain approximate.
NOTE: Land, land development costs, impact fees, local government fees, etc., are not included in the estimated total cost to build this house. They are not included in any byoh.com cost to build examples
Carl Heldmann