Summary: How Much Does it Cost to Build a House in Arizona?
More specifically, how Much Does it Cost to Build a Spanish Style House in Phoenix Arizona?
Spanish style homes, popular in Arizona, imitate traditional homes found in Spain. Some of the features that are found in a Spanish home are stucco exterior siding, and low-pitched barrel tiled roofs.
This particular design also includes arched windows and raised entryways and most homes feature a courtyard. These homes are normally luxurious and are well appointed homes.
*The perimeter of the building has 10 or more corners.
*The living area is 1,816 square feet.
*The number of stories is 1.
*Garage: 534 square feet.
*Central ducted heating and cooling.
*1 each insulated prefab metal fireplace, brick face.
*To estimate the cost to build this new home in Phoenix AZ, I will use this cost estimating software using Quality Class 4 (good standard) throughout.
I arrived at an approximate total cost to build of $259,154 including a General Contractor markup of $29,586.
Subtract the General Contractor markup of $29,586 if you are going to be the General Contractor. That would make the approximate estimated cost $229,568 ($126.41 per sq. ft.)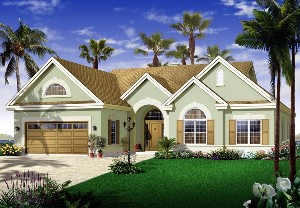 Spanish/Med. Style COOL House Plan ID: chp-36812
You should keep in mind that the estimated cost to build for this example, or any house plan, can vary considerably depending on the quality of materials selected, and on actual bids for labor and material.
Important Notice: Cost estimates change with time. YOU can update this 2018 estimate to see if it has, as well as experimenting with different building quality inputs that affect the cost to build.
Keep in mind that these estimates are approximate and are just a guide. Until you actually start getting your own bids and estimates and entering them into your own spreadsheet (see my spreadsheet page for FREE spreadsheets), they will remain approximate.
Note: Land, land development, local government fees, impact fees, etc., are not included in any of the cost to build a house estimates on byoh.com.
Carl Heldmann