Summary: A passive solar design home collects and stores and distributes heat in the winter by utilizing windows, walls, and floors.
At Architectural House Plans, each home plan is the result of many hours of thought, ingenuity and labor by some of the nation's leading architects.
Architectural House Plans are the only major provider of house plans to offer full sets of working drawings for client-inspired, architect-designed, built homes. The difference in value, detail, and quality is tremendous.
Equinox: Passive Solar Design Plan ID Number: DC-398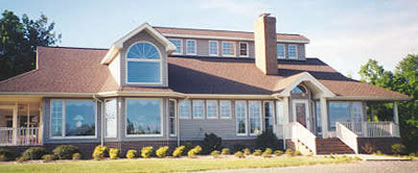 Architect: D.R. Coleman
Total square footage is 2,333 including 116 sq ft in the loft. There are 3 Bedrooms and 2 bathrooms. Additional Features include: Open & spacious living area and an Optional Loft, a Passive Solar Sun room, a Screened Porch, two Covered Porches, and a 2-car Detached Garage.
The Equinox home is a best seller, and it was included in the National Tour of Solar Homes soon after it was built. There are patios and porches (screened or covered) on all four sides of this distinctive home. The entire living area (living room, dining area, kitchen and den) is vaulted, and these rooms are filled with an abundance of natural light. If you wish to take advantage of its passive solar design, the front of this house should face south.
The dominant exterior features of this unique one–story home are the rounded window in the dormer above the vaulted breakfast nook, and the long line of clerestory above the library loft. Like all of Ms. Coleman's designs, Equinox was originally designed for a client who wanted an energy–efficient, passive solar home. You can build this house facing in whatever direction suits your needs, but if you're interested in building it as a passive solar home, please read the next paragraph.
Equinox has been on the National Tour of Solar Homes. To maximize its passive solar design, this house should face south. The slab construction is designed to have thermal mass floors for the south side of the house. The concrete mass floors can be covered in stone, tile, brick pavers, or concrete stain for a marble look. The electronically operated windows in the clerestory aid in cooling. The 35 pages of specifications that come with these plans will give your builder precise details on all the passive solar issues pertinent to the construction of this house.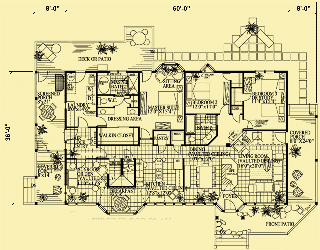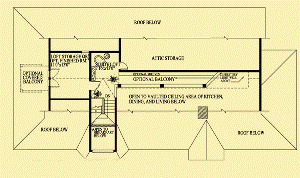 To estimate cost, I'll use my resource #5 , "Building Costs by City & State", on "Getting Started" using "Quality Class #3.

Using this foundation shape on the cost to build calculator for the San Antonio, TX area, I came up with $426,974, including a General Contractor Markup of $48,745.
Characteristics of this home include the following. The perimeter of the building has 4 corners.
The living area is 2,217 square feet.
The number of stories is 1.
Basement: 2217 square feet of unfinished basement.
Attic: 116 square feet of finished attic area with 60 inch to 78 inch headroom.
Garage: 480 square feet of detached garage with no interior finish.
Wood deck, with steps, railing and balustrade: 200 square feet of surface, to 4 feet above ground level.
Central ducted heating and cooling.
1 each insulated prefab metal fireplace, brick face.
The quality of this home could be summarized as "Class 3, Best Standard."
Important Notice:
Land and possible related fees (if any) are NOT included in the cost to build. Read more on fees on my Checklist for buying land on How to Buy Land and Build a House.
Cost estimates change with time. YOU can update this 2018 estimate to see if it has, as well as experimenting with different building quality inputs that affect the cost to build
Keep in mind that these estimates are approximate and are just a guide. Until you actually start getting your own bids and estimates and entering them into your own spreadsheet (see my spreadsheet page for FREE spreadsheets), they will remain approximate.
Carl Heldmann