How Much Does it Cost to Build a House in Colorado
Stone veneer bases support the tapered columns fronting this Craftsman-style bungalow home plan. Inside, the living room links to the dining room, which is open to a sunny nook and kitchen. A cozy window seat nestles into an alcove in the nook. Owners' suite amenities include a walk-in closet and spa tub.
Total Living Area: 2222 square feet.
1st Floor: 1700 square feet.
2nd Floor: 522 square feet.
Garage: 480 square feet.
Plan Width: 50' 0". Plan
Depth: 67' 0".
Floors: 2.
Carport: 294 sq. ft.
Bedrooms: 3. Baths: 2. Half Baths: 1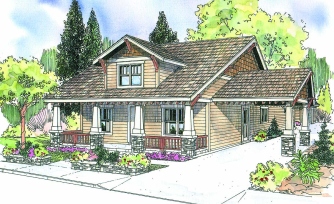 The Markham - Plan #30-575 - Associated Designs, Inc.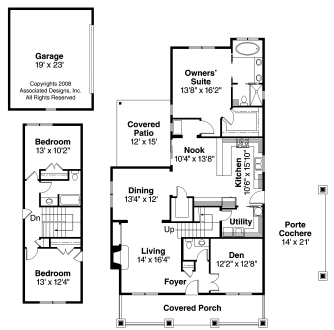 To estimate the cost, I'll use the Craftsman cost estimating software, inputting Class 5 Average Standard Quality, concrete slab foundation, and a zero-clearance insulated prefab metal fireplace with brick facing. I treated the Porte Cochere as a carport when estimating the cost to build the house. There is also a detached garage.

Using this foundation shape on the estimating software for the Boulder, CO area, I came up with $242,159 including a general contractor markup of $27,646.
That's an approximate cost of $109 per sq. ft. (Based on 2,222 sq. ft of living area)
You should keep in mind that the cost to build for this example, or any house plan, can vary considerably depending quality of materials selected, and on actual bids for labor and material.
Important Notice:
Cost estimates change with time. YOU can update this 2018 estimate to see if it has, as well as experimenting with different building quality inputs that affect the cost to build.
The cost estimates used by this cost to build calculator are from the National Building Cost Manual, published by Craftsman Book Company.
Note: Land, land development, local government fees, impact fees, etc., are not included in any of the cost to build a house estimates on byoh.com
Keep in mind that these estimates are approximate and are just a guide. Until you actually start getting your own bids and estimates and entering them into your own spreadsheet (see my spreadsheet page for FREE spreadsheets), they will remain approximate.
Carl Heldmann