Cost to Build a New Home in Vermont with an Unfinished Basement
The Special Features of this attractive Traditional Style home include 9' ceilings, a comfortable covered balcony at the front, home office, workable kitchen, breakfast area, 4 well organized bedrooms, and an unfinished 1,296 sq basement.
Plan Description:
1st level: Entry hall, office, half-bath, family and dining rooms with central fireplace, kitchen with island and lunch counter, breakfast area with access to a covered balcony, laundry facilities.
2nd level: Master bedroom suite with walk-in closet and private bathroom, secondary bedroom with private bathroom, 2 other secondary bedrooms, showers room.
Total sq. ft. living area = 2,768
Traditional Style COOL House Plan ID: chp-25176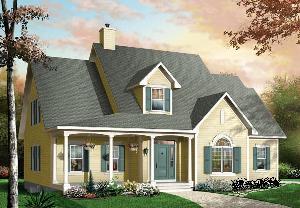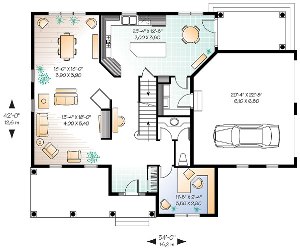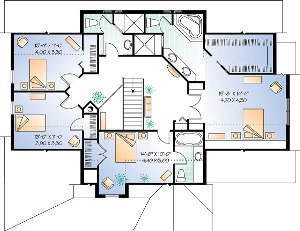 To estimate cost, I'll use the construction cost software as described on Getting Started.





Using this foundation shape for the foundation on the cost estimating software for Burlington, Vermont area, I came up with $325,990 including a General Contractor Markup of $38,661. That's an approximate cost of $118 per sq. ft.
I came up with this estimate by using Quality Class 6 on the estimating software throughout the estimating process, except for the foundation where I used Quality Class 5 to indicate an unfinished basement instead of a concrete slab, and I used Quality Class 4 for interior finish to indicate 9' ceilings.
The cost to build for this example, or any house plan, can vary considerably depending quality of materials selected, and on actual bids for labor and material.
Important Notice:
Cost estimates change with time. YOU can update this 2016 estimate to see if it has, as well as experimenting with different building quality inputs that affect the cost to build.
Keep in mind that these estimates are approximate and are just a guide. Until you actually start getting your own bids and estimates and entering them into your own spreadsheet (see my spreadsheet page for FREE spreadsheets), they will remain approximate.
Carl Heldmann