How much does it cost to build a house in Indiana with a finished basement.
Hi, Carl:
Thanks so much for your great web site! We recently bought "Be Your Own House Contractor" (5th ed.) and we're sure it's going to be very helpful when we begin to build in approx two years.
Our question has to do with cost estimating and whether we're doing it correctly using the Craftsman tool.
We came up with a total cost of about $204,000 acting as our own General Contractor.
We live in Indiana in the South Bend zip code range.
Our property is in the country.
Thanks so much! Marla
The house plan that we love (and will suit our site) is this one:
Photos & Floor Plan From:
Architectural House Plans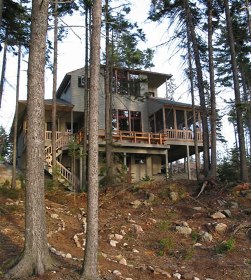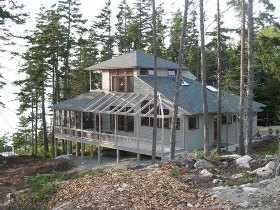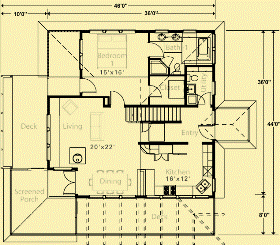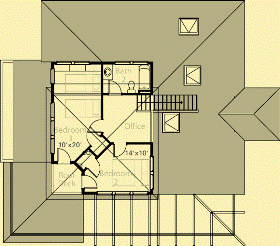 Hi Marla,
This unique house was designed by R W Knight of Knight Architecture for clients who had a beautiful hillside lot that looks into a gorgeous bay in Maine.
It is striking!
I came up with a little more cost than you did.
I used 6 corners (It's not an exact science) and "Average Standard" quality (#5) for all the "Quality Class" questions on the construction estimating software found on my "Getting Started" page.
Total living area: 1,647. Since the second floor is much smaller than the first floor, and because the software might not understand the design, I considered the upstairs area as a finished attic area of 485 sq ft (with more than 78 inches headroom) as opposed to second floor living space.
With an unfinished basement I came up with a total cost of $253,299, including a $31,649 General Contractor markup.
First Floor Living Area = 1,131 sq ft.
Basement area = 1,131 sq ft.
Total living area with a finished walkout basement = 2,778 sq ft.
With a finished basement I came up with a total cost of $268,802, including a General Contractor markup of $33,699 or $97 per sq ft.
You should keep in mind that the cost to build for this example, or any house plan, can vary considerably depending quality of materials selected, and on actual bids for labor and material.
Again, the estimate for this house is an approximate one based on average quality materials.
Important Notice: Use the free estimating software to update this 2016 estimate to see if the cost has changed. You can also experiment with different building quality inputs that affect the cost to build.
Until you actually start getting bids and entering them into your own spreadsheet (see my spreadsheet page for FREE spreadsheets), it will remain approximate.
Enjoy and good luck, Carl Heldmann